FLEXTAIL New Release Vintage Lantern: Upgrade Your Camping to A Glamping
You packed a simple lantern, a power bank, and something else into your backpack, and even though the air was dry, you still gave up the humidifier due to the limited storage space. This time, you had enough of the heavy burden and yearned for convenience and freedom more than ever.
Don't worry, FLEXTAIL can help you get what you want! Now we launched a very new product called MAX LANTERN owning all the above three functions plus a super romantic dancing flame to upgrade your artless "no-choices camping" to a retro luxury "have-it-all glamping". Follow us and have a detailed look at the best multifunctional camping lantern in 2023 step by step.
3-in-1 Multifunction
Ultrabright Camping Lamp
The first function of MAX LANTERN is an ultrabright lamp adopting advanced LED technology. Its three adjustable lamp modes with different brightness and color temperature can fully meet both outdoor and indoor needs. With 360-lumen cold light, you can easily acquire better night vision without struggling in the wild. You can also create a romantic cozy vibe by dimming it down to 50-lumen warm light or 180-lumen mix light. You can expect to get up to 23 hours of battery life for 50-lumen warm light, up to 13 hours for 180-lumen mix light, or 8 hours for 360-lumen cold light when fully charged.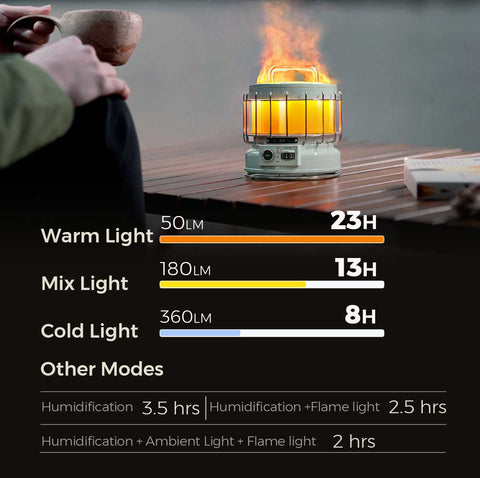 Atomized Humidifier
The second functionality of MAX LANTERN is atomized humidification, which allows the gadget to be used as a smart humidifier to moisturize your skin when the air is dry. All you need to do is simply filling just 100ml water into lantern's internal water reservoir, which comes painted with a MAX waterline level. Three drops of essential oil in water reservoir provide you with on-the-way aromatherapy anywhere. MAX LANTERN also sets up a built-in safety system for automatically shut off to prevent water from running out during your absence.
High-Efficiency Power Bank
Finally, for its last but not least function, MAX LANTERN can be used as a potable power bank due to its built-in 9600mAh large lithium battery. Super convenient and efficient to charge your mobile devices through a USB-C output port whenever you need a quick boost.
A 4-LED lights' battery-indicator is located at the bottom of the MAX LANTERN to inform users of its battery level in real-time (4 lights for 100%, 3 lights for >=75%, 2 lights for >=50%, and 1 light for 25% or less).
Super-Portable & Exquisite Handmade Craft
Starting with its size, MAX LANTERN packs at an extremely compact and lightweight size to take with, measuring a mere 116*124*132mm, and weighing 490g. Its retro style with realistic flickering flame creates the cinematic mood for your journey.
All in all, if you are the kind of glamping person who likes to enrich your outdoor life, FLEXTAIL MAX LANTERN is built just for you! Take this small beautiful yet powerful equipment home. Get cozy together with your camping pals.