Portable & Rechargeable Mosquito Killer
The built-in 9600mAh of the constant end mosquito repellent can be used as your emergency power supply, and the mosquito repellent pad can be inserted into the structural design on both sides of the device at most. Both sides of the repellent mat are heat activated. Both modes can cover up to 30 FT in diameter. Whether traveling at home or outdoors, the mosquito repellent is equipped with a lanyard and can be carried with you.
Double Sided, Double Effect
The MAX REPEL is designed with a structure that you can insert the mosquito repellent pad into both sides of the device. You can choose either one-sided or double-sided mosquito repellent according to different situations.
After many times of testing, MAX REPEL has created its exclusive mosquito repellent pads that are far much better than other repellent pads on the market. Moreover, the repellent pads are heat-activated on double sides. MAX REPEL gives you 360° protection.
Two Modes,As Your Service
In order to cope with different environments and needs, MAX REPEL has two modes ---outdoor mode and camp mode. To activate MAX REPEL, press and hold the power button for 2 seconds to enter the camp mode and the indicator light turns green. Press the power button again to enter the outdoor mode, the indicator light turns red. Press the power button again to turn off MAX REPEL. The camp mode works for 14 hours when fully charged, and covers a diameter of 10 feet range. The outdoor mode works for 7 hours when fully charged, and covers a diameter of 30 feet range.
Go Everywhere Portable
Whether indoor or outdoor, mountain climbing or outdoor camping. MAX REPEL can be easily hung on your body, backpack or even hammock, wherever you want to put it or carry it around with you. A must-have product for home travel and outdoor outings.
Use As a Power Bank
With a built-in 9600mAh high capacity lithium-ion battery, you can use MAX REPEL as an emergency mobile power bank. The outdoor power supply is always a big issue. As a team of outdoor enthusiasts, we must take this into consideration. The power output function has been added, MAX REPEL can be reversed into an emergency mobile power bank to charge mobile devices. Enjoy new experiences with MAX REPEL!
IP65 Water Resistant
The outdoor environment is always unpredictable. MAX REPEL is IP65 waterproof. So no matter it gets wet in the rain, accidentally splashed or even dropped into a puddle, water short circuit will never happen on MAX REPEL. Through wind and rain, MAX REPEL will always be with you.
The shell of MAX REPEL is made of super strong and durable material, even if dropped from 1.2m height. It will not be damaged when it hits the concrete floor. It will still work fine.
What's in the box?
Flextail MAX REPEL
This is the best little thing ever! I've done a full review here if interested: https://youtu.be/xtkUTQw0LAQ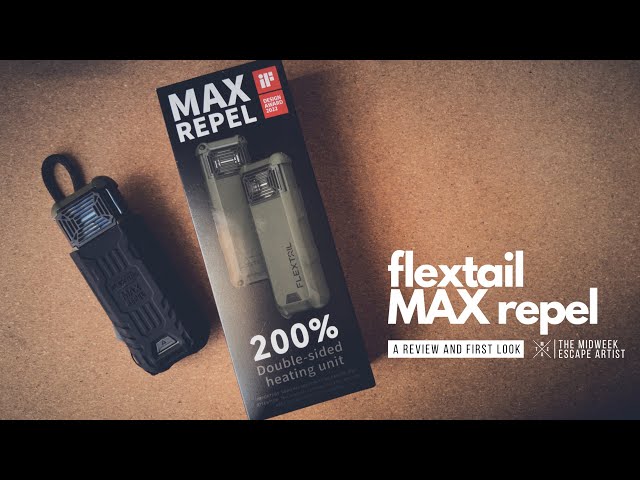 Product works perfectly.
This little device actually surprised me! It is easy to use it really does keep the mosquitoes away! I live in the Adirondack Mountains, we also have something called "black-flies" in early summer. When they bite you know it! This little machine even keeps them away. No nasty spray coming out either! It just quietly does it's thing :-) Great value for the money.
Still testing but seems to work
Well built and lasts long enough to get through a evening of outdoor socialising, it would seem, without being hassled by mozzies.
MAX REPEL- Portable & Rechargable Mosquito Repeller