This is how a tiny tool can make our outdoor activities easier and more convenient. 
How many things will you take when you are going to have an outdoor activity?
Would you like to make your bag or packing lose weight?
The MAX PUMP2 PRO can help you.
This tiny tool can be a powerful inflation and deflation pump, and it can also replace an ultra brightness lantern, power bank, and fire bellows in your bag. It is much easier and faster for you to draw the air out of the vacuum bags with the pump. It will help you save more than 55% of the storage space. Therefore, your packing can be much smaller and lighter with the help of the MAX PUMP2 PRO.
Are you tired of inflating your air mattress, floating bed by your mouth or manual pump?
Do you want to save more time to enjoy and relax?
These inflatable products can be more full and harder in a snap with the MAX PUMP2 PRO.
With the industry-leading micro motors and the latest turbo-centrifugal technology provided by AIRVORTECH™ technology, MAX PUMP2 PRO can easily reach up to 4.5kPa of inflation pressure with its tiny size. You can fill the large inflatable products more full and harder, such as inflatable boats and beds. we have set up 2 modes, the high mode can fill your air bed or boats, and the low mode can inflate your swim ring or air cushion. With 300L/min of inflation airflow, a zero mattress can be filled in 28 seconds!
Many outdoor enthusiasts like to go exploring at night, then the MAX PUMP2 PRO can become an ultra brightness lantern to illuminate the night. You will get enough brightness to prepare for darkness and emergency from the MAX PUMP2 PRO.
When you want to light up your surrounding or go running in the wilderness at night, you can switch it to the high brightness(500 lumens). If you just want to light up your tent, you can choose the low brightness(50 lumens), and the design of the top hanging ring, which allows you to string it on anything without a carabiner, so you can hang it inside your tent or hook anywhere in your campgrounds. It can be your good partner when you are outdoor at night.
MAX PUMP2 PRO is smaller than a can of coke. Because of its tinny size, many people may worry about its duration. Actually, its battery has a larger capacity than you expect. And the Type C port allows more ways to charge it.
Built-in 3600mAh rechargeable lithium battery, it can last up to about three days at the low brightness after fully charged when it is used for lighting. As a pump, it can inflate 150 air pillows or deflating 35 L-sized buggy bags. MAX PUMP2 PRO can be charged by a fast Type C port, you could charge it by a wall socket USB charger, power bank, or even your computer USB slot. What's more, it can be used as an emergency backup power source for your mobile phone and other mobile devices. You needn't worry about the battery running out when outside. It can be a lifesaver for days of a camping trip and other emergency power outages.
Are you ready to face the changeable weather and rugged environments of the outdoors?
MAX PUMP2 PRO is ready. It can work soundly on rainy days, nights, and other rugged environment. You can always trust it.
The high-quality ABS housing and PC lampshade material can ensure its durability and reliability. IP55 dust & water-resistant to moderate rain and splash, and deal with the various outdoor environment. It also can make a fire by blowing air and delivering oxygen faster, safely, and efficiently. Set off hiking, fishing, or camping with the MAX PUMP2 PRO, It's a reliable companion in every adventure you go on.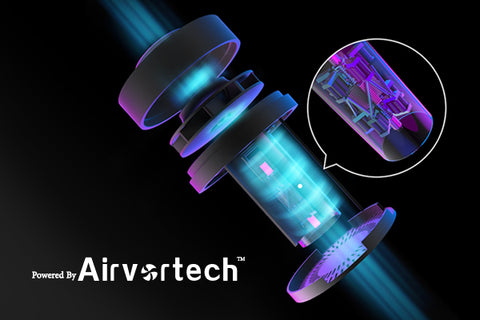 It's not only an ideal candidate as your outdoor companion but also a good helper in your daily life. It can save more space for you and clean the hard-to-reach cracks.
 MAX PUMP2 PRO remains to meet your deflate needs. In addition to deflating inflatable items, but also can be used with vacuum bags. It is much easier and faster to draw the air out of the vacuum bags, more powerful than a hand pump. You don't have to worry about the limited storage space, it will help you save more than 55% of the storage space in 30 seconds. Besides, it is also suitable to clean keyboards and hard-to-reach cracks.