Description
Fed up with sleeping in an airless, hot, and clammy tent? Are you frustrated by the stuffy outdoor environment? We know that struggle! We find the best solution for your summer camping trip!
Introducing MAX COOLER, an outdoor fan with an aircraft engine look, designed to keep your outdoor trip cool - wherever you go. With powerful fan speed, outdoor flashlight & mosquito repeller built-in, emergency power supply, and IPX4 water resistance, MAX COOLER is the perfect portable fan you need for outdoor adventures or travel.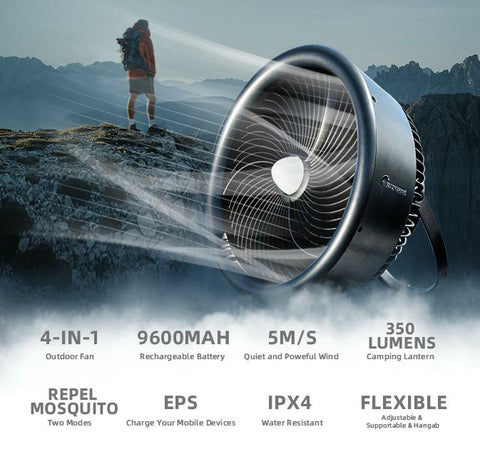 Quiet But Powerful Airflow
After many times of testing, Max repel has created its exclusive mosquito repellent pads that are far much better than other repellent pads on the market. Moreover, the mosquito repeller pads are heat-activated on double sides.
Repel Mosquitoes Efficiently
When you're picnicking or camping outdoors, this rechargeable fan not only provides a cool and comfortable breeze, it also repels mosquitoes. There is a built-in mosquito repellent device on the back of the MAX COOLER, which can be inserted into a mosquito repellent pad. Two different heating temperature settings (high temperature mode: 165°C / low temperature mode: 135°C) can achieve different effects according to your different environmental needs.
Light Up Your Night
MAX COOLER has a timer shutdown function for you to schedule it. Switch to timing mode, you can choose the working time of the fan function, and schedule it to turn off at a specific time. Enjoy a cool and bright night. With 350 lumens on high, it is rated to continuously last up to 9 hours at its high brightness, and 25 hours at the low brightness(50 lumens).
IPX4 Waterproof
IPX4 water-resistant can protect against splashing water from all angles, it is more suitable for dealing with the various outdoor environments. MAX COOLER is a reliable companion in every adventure you go on.
Emergency Power Supply
MAX COOLER can be used as an emergency backup power bank to charge your cell phone, wireless headphones, and other USB-powered devices. It can charge an iPhone13 about 2.5 times.
Flexible And Portable
MAX COOLER weighs 870 grams, so you can easily take it anywhere. The 180° adjustable & supportable & hangable handle lets you enjoy airflow from different angles. In addition, the fan has a 1/4-inch threaded hole at the bottom, so you can attach a tripod to use it.
Ventilador 4 en 1
Si lo he utilizado mas de lo que esperaba, no he salido a acampar o lugares fuera, pero tan solo en casa, tengo una opción cercana a mi para recibir aire directo para refrescarme, tiene 4 niveles de potencia y es muy practico que sea de batería recargable.
Creo que lo versatil y funciones extra de lámpara, repelente y temporizador, le dan ub toque bueno para todos los que nos gustan este tipo de Gatgets.
El envío fue muy bueno y relativamente rapido, llega como en tres semanas y lo mejor de todo, gratuito a Mexico.
Big fan of the fan
I bought this for camping in Florida. Just love that it is rechargeable and can be used to charge other devices. The fan and light are quite powerful. Appreciate the different level choices. Have not tried the mosquito repellent option yet but really all of this in one product is well worth the money. Thank you FlexTail